Here's the thing: I took a couple of semesters of Spanish during my freshman year in college, but when I took a trip to Mexico that summer, I said almost nothing beyond "Hola" and "Buenos Dias". I passed all the tests, I did most of my homework, yet it was as if my effort was all in vain. It was embarrassing.
To redeem myself, I thought that I'd plan a post-graduation trip to South America and communicate better in Spanish. I tried a bunch of free and paid programs out there (including Pimsleur's audio CD's and Rosetta Stone), but Rocket Spanish was the one that worked best for how I wanted to learn.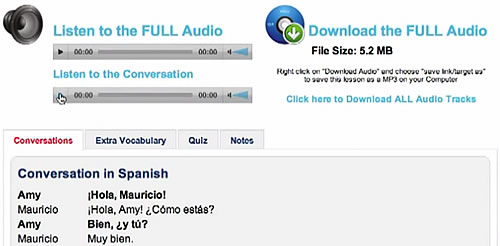 Here are some things I liked and didn't like much about the program:
Pros
1) Solid Pronunciation Practice.
One of my main barriers for speaking Spanish was my pronunciation. I'd always hesitate before I spoke because I was always afraid of saying things wrong. I tried some software that taught Spanish pronunciation, but it seemed like it accepted almost everything I said, even if I felt I was pronouncing things wrong. So at first, I was skeptical of Rocket Record – the pronunciation feature for Rocket Spanish. But that thing is pretty accurate!
Plus, the native speakers that you have to copy are pronouncing things in a realistic, lively way – unlike the almost-robotic speech I was used to in other language learning programs.
2) Ten Weeks to (Almost) Fluency
It's typically an 8-week program, but it took only 10 weeks for me personally to feel confident that I could carry a short, basic conversation. Some people say that 8 weeks is too long, but that's nothing compared to two semesters. Plus, the course is paced in a way that it's simple enough to do. It doesn't feel like they're cramming too much vocabulary and information in your brain, it's just that they focused on the essentials to get you speaking fluently ASAP.
3) You're Forced to Remember It For Life.
I think the main reason why I froze or forgot my Spanish during my first trip to Mexico was that apart from the exams, I really wasn't forced to practice or remember vocabulary or phrases. With Rocket Spanish, there's a feature called "Know it!" which just randomly pulls an English word from the lessons and asks you to translate. This spontaneous, random test can really put a jolt through your nerves, but it was super effective in helping me remember.
4) Loved the Flash Cards.
I've heard from language learning blogs that flash cards can be useful for helping you remember your vocabulary, especially when you're trying to refresh a language that you haven't spoken in a while. I thought I'd have to buy them separately but the program comes with 2 sets of online flash cards that you can test yourself with on the fly. I wish it included paper flash cards, but these are ok too.
5) Points System Helped Me Stay on Track
One of the reasons why I just unintentionally dropped programs like Pimsleur and Rosetta Stone was because apart from keeping track of what lesson you're on, it's hard to quantify your efforts. It sounds silly, but surprisingly I was really motivated with the points system in Rocket Spanish. I was proud of myself whenever I'd accumulate points or move up a level – imagine my joy when I finally reached "Guru".
Cons
1) Hard to Get Into The Habit.
There were a couple of weeks when my progress stagnated because I wouldn't remember to get back into the course and do the lessons. It would be great if there was some kind of reward or incentive to get you to keep coming back daily so that you'd really get into the habit of studying. I eventually got back to it, but I had to do a lot of practice for the first couple of days before I got into the groove again. This seems to be a major drawback with most programs – it's a separate effort for you to try and learn to make a habit out of it.
2) The Games Were Distracting.
There are some games included in the program, supposedly to make the learning more fun, but I didn't get much out of them. I can see their appeal for some people, but for me it was just a feature I didn't really need that much. The points system and the flashcards provided enough of a fun element for me.
3) The Cost.
It's a little pricey, but I guess that's true of most self-paced language learning programs. I just had to make sure that I'd follow through with the program to make it worth every penny. There were some features I didn't get to use to the fullest, such as the Games and the Culture Lessons, but that might be because they weren't really what I had in mind when I bought the program.
Did It Work?
I was terrified to just go on my trip without any kind of practice, so I thought it might be best for me to speak with a native speaker on the phone or via Skype or something like that. It took me a while to figure out the forums (I kind of forgot they were there) but I eventually found I found a native speaker from Argentina to do a 15-minute conversation with me and help me test my skills. At first it was awkward, but on our 3rd call our conversation went smoothly. I barely spoke a word of English.
When I finally went to Chile and Argentina, while my conversations weren't perfect and I was still a little nervous, I was able to connect with other people and even crack a joke or two in Spanish. I still have some way to go before I can debate politics or discuss things in deep detail, but this is a great start.
So overall, yes, the effort and time I put into Rocket Spanish was well worth it. I think that apart from my classroom Spanish, it's the only program where I didn't give up halfway. Great program, and I'd gladly recommend it to anyone who's trying to learn Spanish on their own.
Source: